Updated visitor information (July 2023)
Here you find all the current artworks that can be visited: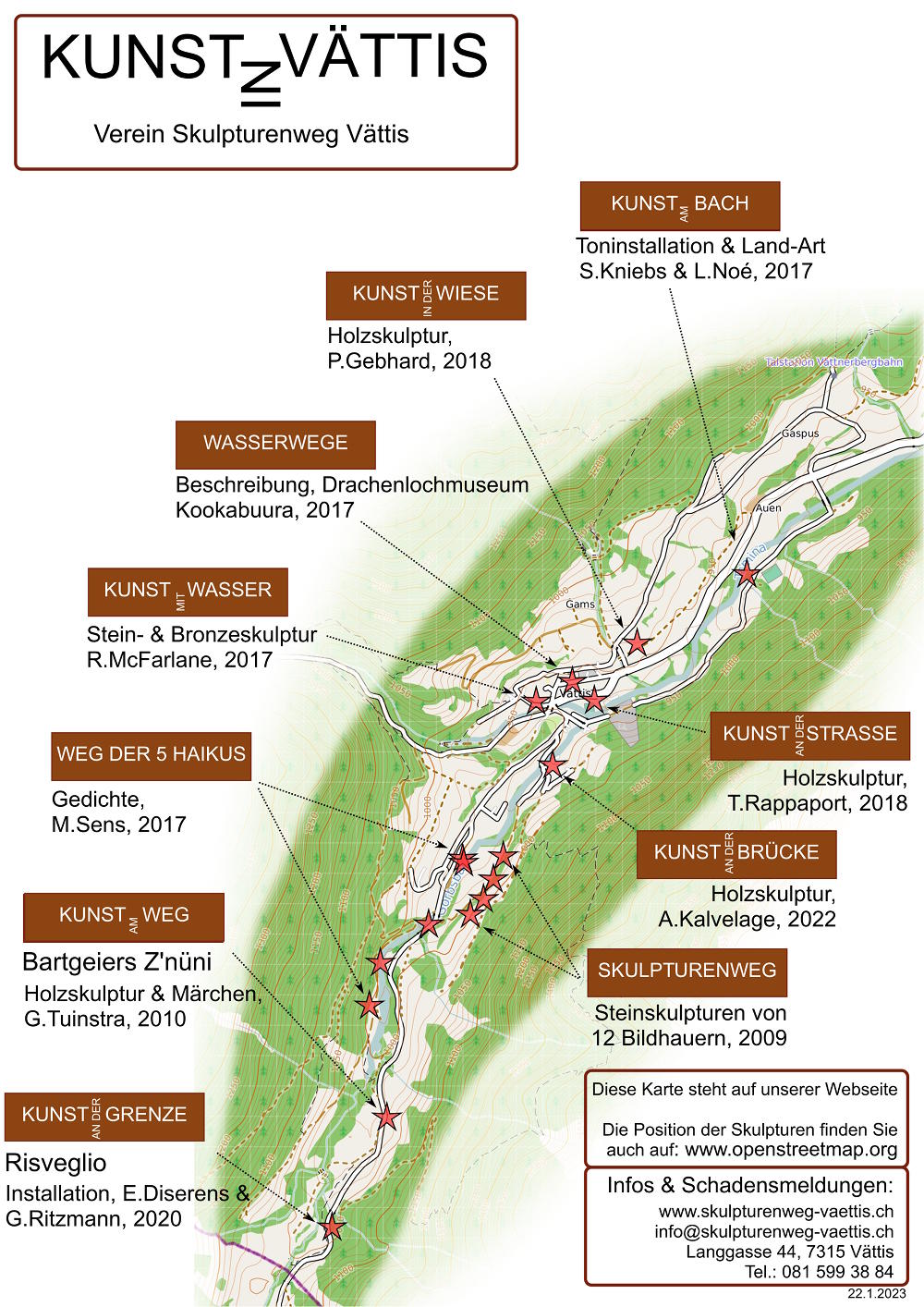 latest map
Artist in Residence 2023
The Duo TonSatz (Eva Batt and Christiane Schwarze) visited Vättis during 4 weeks from June, 14th onwards.
Artist in residence 2022
The sculpture "Taminatanz" (by Annegret Kalvelage) is placed near the bridge Calandastrasse-Grossau.
More...
Artist in residence 2020
As of September 17th, Erika Diserens and Gerda Ritzmann show the installation they created during their stay as artists in residence in Vättis at the Kunkelsstrasse south of the village.
A new sculpture for Vättis, 2019
Just before the village entrance a sculpture by Peter Gebhard is now shown. The impressive wood sculpture is visible from far away. It was made during his artist in residency in Vättis in 2018
Artist in Residence 2018
Woodsculptures made with a mobile saw mill
Thriftwood sculpture for Vättis
Artists near water Vättis 2017
From this project the following artworks can still be visited:
Meant as hidden art, the bronze- and stone sculpture can be found in the village in Wasen, near the Kulturbrücke.
Near the sport field Cholhüttenau north from the village besides the Tamina (river).
"Wasserwege im Calfeisen- & Taminatal" (about the waterways in the valley) is a text to the landscape model in the Drachenlochmuseum (village museum). It can only be visited with a guide at a prearranged time.
The poems on aluminium plates can be found from the old saw mill south of the village to Wiesli, along the Görbsbach next to the 1,5km long unpaved forest road
Stone Sculpture Path
Under For Visitors -> Sculpture path you find details about the 500m long path with twelve stone sculptures. You may book a guided tour if you want to know more about the sculptures.
Bartgeiers Z'nüni (Breakfast of the bearded vulture)
The work of the sculptor Gyelt Tuinstra consists of a four-part wood sculpture and a fairy tale. It was created in honour of the reintroduction of bearded vultures in Vättis.
As the material deteriorates, the konfiguration was changed in 2018 for safety reasons.
Publications
The book "Vättner Skulpturenweg" (Sculpturepath Vättis) was published end of novembre 2010. For more information about the book, please see our german flyer.
Other projects
Here you find information about all the projects of the association since 2009.