Karl Ciesluk with Land-Art in Vättis
The canadian artist Karl Ciesluk lived in Vättis, from september 12th till october 17, 2013 and let the surroundings inspire him.
The association invited the artist and organised the project. The project was supported by Alpine Schule Vättis, Kliniken Valens, Dr.med.R.Laetsch, Ninas Lädeli, Offizin Parnassia, Politischen Gemeinde Pfäfers, Kurverein Vättis, Ortsgemeinde Vättis, Lebensmittelladen U. Zimmermann and other private sponsors.
One evening during his stay in Vättis, we interviewed Karl about his art projects. This is our summary of the interesting talk we had on the 5th of October, 2013.
Q: Tell us something about the projects you do, and especially here in Vättis.
I work on a few themes: for example "Plant Fertility", using seed pods and sprouts as my inspiration. Another is my "Human fertility" series which I did not pursue here in Vattis but did at another Artist in Res. in Ireland last year. In Ireland, I also worked with ladders, as well as during my Artist in Res. in Iceland before I came here. Here in Vattis, I continued my work with Ladders by creating "Between Heaven and Hell". It seemed fitting because it is like paradise here. While in Iceland I worked on a theme involving Volcanoes and Glaciers, and continued this theme here in Vattis. "Mountains" is a new theme that obviously stems from the surrounding Alps. As I work on many themes, I see where they will take me and how original I can be. I seem to return to many of my themes more so than other artists. I return to these themes when I find the surroundings would lend themselves to one of my particular themes, or when I am thinking differently and want to try another approach. Eventually I do stop doing certain ones like my "Reflective Fish" theme.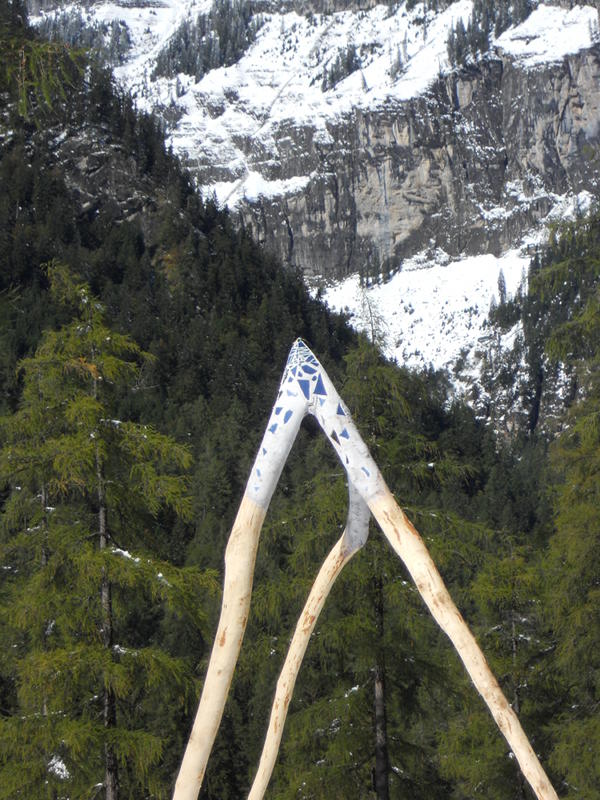 Q: Why do you make art, does your art have a political, societal meaning?
I am addicted to creating, and trying to be original. It is for my personal satisfaction. My work being Land Art, it obviously takes place in the landscape and mainly relates to nature. As for titles: They come to me eventually. I use them to point the viewer in a direction. I use "no title" when I cannot figure out where the idea or piece came from, but that is seldom. My titles can change depending on whether I want to create a different meaning. In the case of my ladder sculpture I can call it "Heaven and Hell" or "ascending/ descending" to make it less obvious. In my "seed pod" series I can only give them so many titles before I start numbering them, which is not as satisfying.
Public Art is a different type of sculpture I do which can relate to the sculpture's surrounding history, geography or architecture. Such stipulations are presented beforehand by the commissioning body. With public art you are always conforming to the site, the scale and the intended meaning. I find it more like being a designer. I enjoy it and it is challenging in a different way, and it is a means by which I can make some money sometimes. That again allows me to make my other art that does not have to sell and where I can be freer and can further explore my themes.